SPF
WTS: Valmet M62-76 clone kit. $1175 shipped reduced to $1125 shipped, FFL must accept from individual. I can arrange shipping from FFL for fee charged by FFL. I also have some Valmet green mags and a steel mag for sale to purchaser. This ad is cross posted.
Valmet M62-76 virtually complete clone parts kit. I spoke to Matt "Turbothis" when I bought this and never got around to sending it to him. This will build a great rifle.
Valmet M62-76 in 7.62X39 Clone parts. Included is as follows:
· Polytech Hunter donor rifle (has the milled receiver, better than using the Norinco Hunter) Note that I had the Receiver professionally milled with the correct lightening cuts. This includes the complete rifle, with all the parts (even ones not shown in the photos). Te Polytechs are known to be excellent rifles.
· Galil Rear Stub to splice/weld on the rear of the Poly receiver to give te correct profile.
· Valmet M71-78 muzzle brake/front sight (still needs some grinding/milling to match the M62 profile)
· M62-76 Handguard, complete with hardware.
· M62-76 un-numbered complete Top Cover wit sight.
· M62-76 Pistol Grip and mounting hardware.
· Valmet Trigger Guard
· Reproduction Valmet Wood Stock made by Bishop, with buttplate and sling loop and stock bolt (This is no longer available)
· Valmet Tube Stock Rear Section (if you want to build it as a Tube Stock gun)
· Galil SAR Gas Block (which is a perfect match)
· Galil Gas Tube (you'll need to drill one additional gas vent hole on each side. The Galil has 3 and the Valmet has 4 on each side.
· Galil Gas Piston
· Galil Mag Catch Assembly (a perfect match)
US FCG
· Miscellaneous Parts, pins, etc.
This will make a very nice M62-76 (in 7.62X39). Build it with either with the wood buttstock or tube (add a AR buffer tube)
This is the thread where I acquired this project.
http://www.theakforum.net/phpBB3/viewto ... 8#p1278198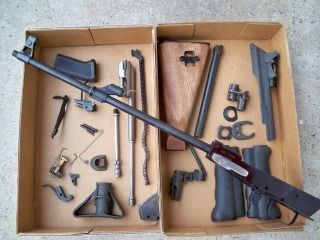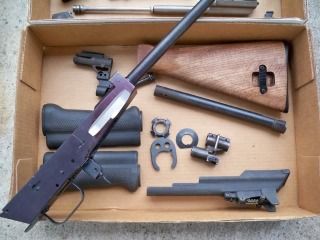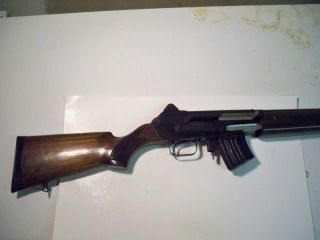 This is what it could look like